First Looks

(and why you should have one)
To have or not to have a first look on your wedding — that is a question all couples face while planning their special day. For some, it's an easy decision, but for many, having a first look can be a difficult choice and can even become a point of contention in the planning process. There are two main reasons why a couple may choose not to do a first look: it's not traditional, or it will take away "the moment" while walking down the aisle. We understand your concerns, and we want to help make the decision a little easier on you. After working many weddings with and without a first look, we can attest that there are no moments lost by doing a first look — instead, you just gain extra time with your love on the best day ever! It's interesting to speak with both married couples and wedding vendors about first looks, as we have found that there is a general consensus that it is absolutely worth it and a wonderful choice. We've gathered statements from photographers, videographers, and real couples to break down why having a first look could actually be the best decision you can make for your wedding day. You'll notice that the benefits are pretty unanimous, and you'll even get to read some testimonials from real couples who struggled with this decision and now know they made the right one. There are a lot of reasons a first look could be perfect for you — but if it's not, that's okay too.
Cara Marie Photography

"First looks allow you to be TOGETHER and alone on your wedding day and this may be your only chance to be alone together all day! In these special moments together you can cry and share a laugh and maybe even cry some more. It is the PERFECT way to get in the mood for some romantic portraits. [You also get to] extend your wedding day. Normally the wedding day would start when you come down the aisle, then the ceremony would end, you would rush through portraits so that you're not late for introductions and then it's reception time. Instead of being rushed for your bridal party portraits, you can enjoy them and have fun hanging out with your BEST friends on your wedding day. And bridal parties LOVE a first look because this means they can get photos done when they are freshly ready, which means they aren't too hot, too hungry, or too tired for pictures. They love getting their photos done and out of the way so this way when the ceremony ends they can join their friends for a drink and an hors d'oeuvre during cocktail hour!"

You can read more about why Cara recommends doing a first look in her own blog post on the subject!
Kelsey & Dylan

"Dylan and I always planned on doing it the traditional way...he would see me for the first time at the altar. After meeting with our photographer for the first time and hearing his concerns with our late start time, and having to miss cocktail hour for pictures, we reluctantly agreed that a first look would be the more practical option. I was worried that all of our emotions would come out then and take away from the actual moment, but I was so wrong. The first look was such an incredible moment and took away all of the nerves that we had for the actual ceremony. Dylan and I not only cried many tears of joy during the first look but even more when he saw me for the first time during the ceremony. We had two hours to take pictures before the ceremony and to hang out with each other and all of our bridal party and immediate family! By the time the ceremony came, I was just excited to make it official!! I was one of those people so against the first look, and I am now a firm believer that it is the only way!"
Samantha Jay Photography

"Let me start by saying, I have never had a couple regret doing a First Look. I think the fear can be that the First Look will "ruin" that moment at the top of the aisle for your ceremony, but this couldn't be more false. You are in no way replacing a moment on your wedding day, you are adding another special one! The First Look is a moment all to itself. It is time for you and your significant other to really soak in the wedding day together in a more quiet way. You don't have family and friends to think about at that time, it's just about you two! You can hold each other, get excited for the day and really let it become real — YOU ARE GETTING MARRIED! After your first look, you will still have time prior to the ceremony to be separate and let the anticipation of saying your vows build. I can speak from personal experience that walking down the aisle is still filled with butterflies and amazing energy for what is to come. As I said, the First Look isn't replacing anything, it is enhancing your wedding day and giving you even more beautiful memories with the person you are committing your life to!"
Andrea Krout Photography

"There are a lot of pros to doing a first look:
One, attending your cocktail hour doesn't only mean you can enjoy the food and drinks, but it also relieves some of the pressure of going around to tables to thanks guests during the end of dinner at the reception.
Depending on what time of year you get married and your ceremony time, the sunset time is a big factor. For example if you are getting married at 4pm in November and not doing a first look, your photos after the ceremony will not be in natural light.
As much as you may not want to read it, sometimes your wedding day doesn't go according to your timeline. Hair and makeup can run late, it may take 20 minutes for everyone to get their things together before getting on transportation for the ceremony, or maybe there is a wardrobe malfunction. Building a first look into your timeline allows for any mishaps.
A lot of couples believe that a first look will take away from the moment their significant other watches them walk down the aisle. I assure you that I have seen grooms sob during the first look and then again at the ceremony. I have had brides who are so nervous and anxious and once they see their husband to be during the first look, it all fades away.
Lastly, you want to enjoy your wedding! Your wedding party, immediate family and couple portraits can all be done before the ceremony. First looks allow for this and I promise you your wedding party and family will be happy you chose to do one. This doesn't mean all portraits are done of course, but a well-built timeline will ensure all are captured.
I promise you won't regret the decision!"
"...the fear can be that the First Look will 'ruin' that moment at the top of the aisle for your ceremony, but this couldn't be more false..."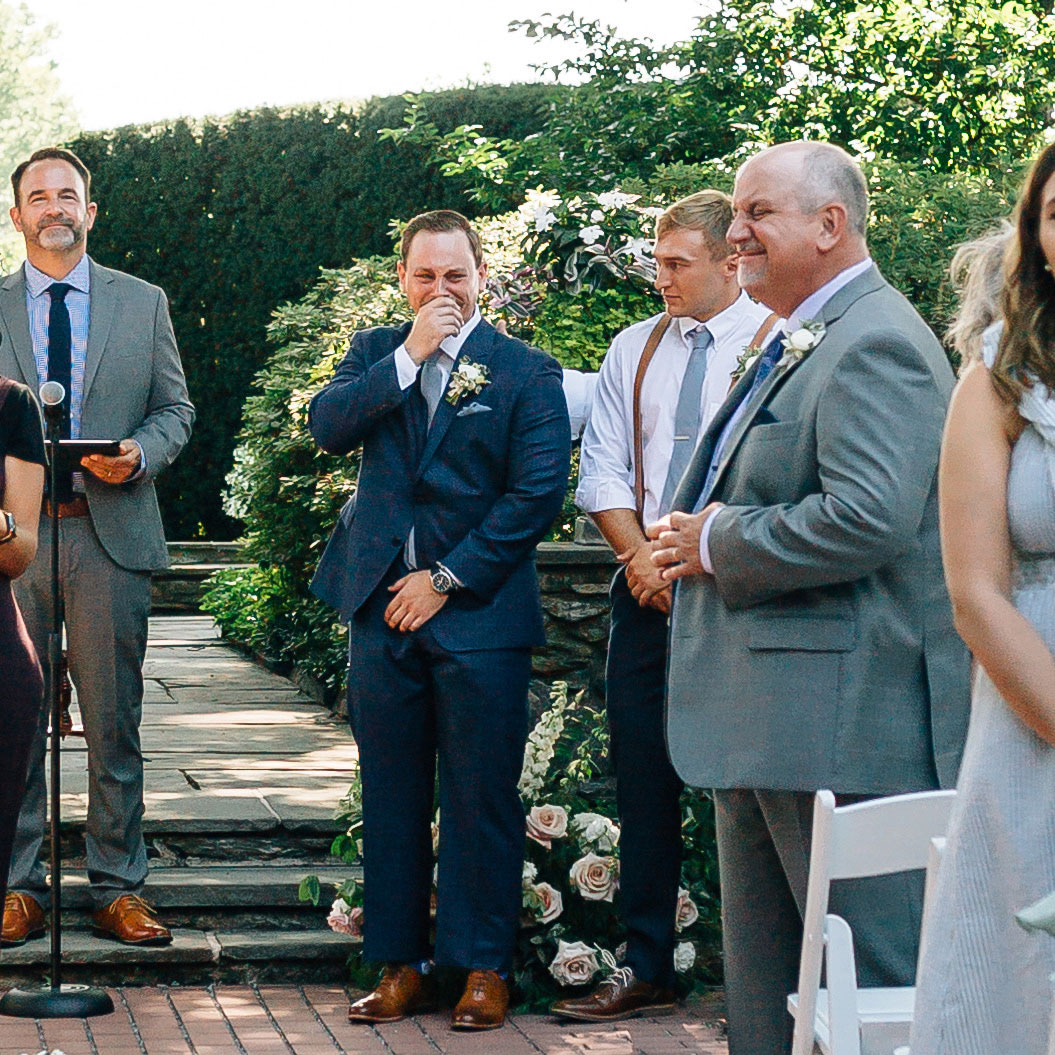 Kara & Ian

"Doing a first look for our wedding made things a lot easier when it comes to timing. We all know the day goes by in a second and we try to live in each and every moment, but we also want those photos to cherish. We were able to split photos in a way where we could do our first look and the bridal party before the ceremony so that we only had to do immediate family photos after. We then could quickly move on to the party! My husband and I also loved that intimate moment where it was just the both of us. I loved seeing the look in his eyes when he saw me and the reaction on his face. The whole thing was priceless and memorable. I would recommend this to any couple when planning their day."
PGP Wedding Films

"The moment you first see your spouse on your wedding day is a moment that is VITAL to your wedding film. One of the big advantages in doing a first look is that moment is a bit more controlled. There aren't guests dipping into the aisle to get their cell phone photo fo the bride or anything to distract from that moment. We get to see the raw emotion of what was for me, at my wedding, the best moment of the day!"
Phil & Julie

"My husband and I initially chose to do a first look mostly because that's when it made sense to take our portraits in the structure of our day. We also got married in a pretty non traditional setting outside and didn't want our wedding guests hanging around and exploring our ceremony location afterwards. Looking back at it, our first look ended up being our favorite part of the day! It gave us a calm private moment together in an otherwise busy day. It definitely calmed any nerves we had getting to spend a few moments together before the ceremony. We are also both shy people, so it was nice to have this big moment of seeing each other for the first time in private."
Chrissy Marie Photography

"The first look is one of my favorite moments of the day. It's exciting and intimate and raw and real. There's a buildup to it - it's that moment where your stomach is just butterflies, where all of the preparation comes to a head and you're heading down to a secret secluded location where the love of your life is waiting for you and about to see you for the first time on your wedding day. There are tears and joy, surprise and wonder, all bundled up into one moment that is just YOU GUYS. No one else. Just one pure blissful moment between two people who love each other before the flurry of the day actually begins.

So yes, it's a magical beautiful moment! But here are a few reasons why it just makes sense to do one:
1) You guys get more time together. The hectic wedding day can be crazy and sometimes you're in opposite directions - a first look gives you the time away from everyone to just spend with each other.
2) Get those nerves out! I've found that the first look calms nerves before the wedding - getting to spend that time together and see each other is a perfect way to ease into the rest of the day!
3) Want to enjoy cocktail hour? A first look is a great way to cut down on the after ceremony photos! Even if you just get family photos and a few wedding party shots out of the way - it makes the flurry of after ceremony photos go smoothly and guests & family can feel free to go straight into cocktail hour instead of staying behind for photos! In any case though - you'll typically end up with 30% more portraits of each other with different backgrounds and lighting!"
Dearly Beloved Weddings

"As a photographer, I often hear many couples say, 'I was told I have to do a first look to have enough time for pictures. Or to really enjoy my wedding.' But that's not true, I like to look at first looks as a way to have a private moment. It's an opportunity for the couple to be completely vulnerable with each other and share that moment of emotion and excitement together. Although, the traditional 'down the aisle' first look is also very special, some people get too nervous to show all their emotions in front of a crowd. So, that's what I think a first look is good for. Yes, it gives you more time for pictures and you're more likely to make it to your cocktail hour, but I always encourage my couples to do what feels right for them and what will be the most meaningful. If you structure a good timeline, pictures won't get in the way of you enjoying your wedding. I'll be there to capture it either way!"
Tawanda Faye Photography

"I like First Looks. I feel like it's important in the fact that it's an intimate way to soak up your spouse / talk to each other and alleviate pre-ceremony jitters. Also if you care about your cocktail hour then you can get most of your portraits out ahead of time and celebrate with friends and family!"
Haley Richter Photography

"As a photographer, I LOVE when couples opt to do a first look — these are 7 reasons why I think it can be a great option for your day!

1) It makes sense logistically: Why plan a huge party and then miss an entire hour to take photos!?
2) Attend your entire cocktail hour: You spent so much time picking out your signature drink and passed hors d'oeuvre menu- why not enjoy it with your guests?! I also LOVE photographing cocktail hour- this is when I get to take lots of lovely photos of guests mingling with each other and you!
3) It calms the nerves: When couples opt out of a first look I see so many get SO anxious before their ceremony- not because they're nervous about getting married, but because they're also nervous about seeing their partner for the first time in front of such a large crowd.
4) It's another intimate and personalized moment of your day: A first look ensures that our couples have an intimate and special moment together on their wedding day! Many of my couples decide to exchange private vows during this time as well.
5) Consider sunset, it may be dark during your cocktail hour: Make sure you look at your sunset time on your wedding day. If you're getting married in late October and you plan on having a 6pm ceremony — it will be almost dusk by the time your ceremony concludes. Doing a first look before your ceremony will ensure your photos are taken in daylight! Couples see my portfolio and LOVE our bright images — all of our favorites are lit with daylight.
6) Your photos are less rushed, so I get to be more creative: When I make photo timelines for my couples, I like to have 1.5-2 hours of time for all portraits (bridal party, family, and couple portraits). This may seem like WAY more time than needed, but this allows us flexibility with adjusting dresses, accounting for running behind, moving around your venue's property or the city and giving us more creative options for photos. Trying to take the same amount of portraits in 45 minutes to an hour during cocktail hour means as a photographer I get to be less innovative, having to stick to one location for photos and sticking tight to our list making sure we're getting all those important shots.
7) Better rain options: It happens — sometimes the weather doesn't cooperate in our couples favor, be it rain, high winds, extreme cold or heat; sometimes outdoors is not an option for us. Having a first look again gives us that time and flexibility to shoot in our plan B options which may be inside a venue's reception space or cocktail hour space. Without a first look, these options may not be available for portraits because they'll be filled with guests during cocktail hour time."
Morgan Taylor Artistry

"I have always been more of a traditionalist. However, after seeing countless first looks and watching many first views during the ceremony, I must say I not only see a huge benefit to first looks, but I also prefer them. I think it's one of the most intimate and emotional parts of the day. Many brides I have talked to fear that there is less emotion in a first look, and I have to say I disagree. Being that the moment is so personal, it allows the couple to show all the emotions they are feeling without the pressure of a crowd watching. It not only alleviates stress from the timeline but I find that most couples experience less anxiety after seeing one another earlier on. I love giving couples fifteen minutes after the first look to admire each other, share some playful laughs, and intimate kisses. It is always a beautiful experience to watch. Not only do they get to embrace the moment with one another, but they get to share their excitement for everything to come."
So, what's our take?

For all of the reasons above, we recommend taking the opportunity. It doesn't ruin the moment, but instead adds another more intimate one. Your nerves will thank you, your vendors will appreciate the extra breathing room in the timeline, and your guests will be thrilled to see you during cocktail hour (which also means less stopping from table to table to greet during dinner!). We have never had a couple regret doing a first look, but we have had couples regret not doing one. So, if you're on the fence, we say you should definitely go for it! That said, at the end of the day, it is 100% the couple's choice whether or not to partake in that moment. It is a personal decision, and your wedding team will make whatever you choose is right for you work on your wedding day. One way to help with timeline preparations if you go the traditional route — leave an extra hour or two open after the ceremony and before cocktail hour starts just for photos! You can include fun things to do in the area or your favorite local pub on your ceremony programs so that your guests don't need to wait around or go back to their hotel, but you get the time you need to get all of those beautiful photos in. A plus? If you leave enough time in between, you may even be able to do a receiving line into cocktail hour and spend that extra time with your guests! Your wedding day should be enjoyable and stress-free. While we highly recommend doing a first look with your love, we are here to make the day run smoothly no matter what you choose.